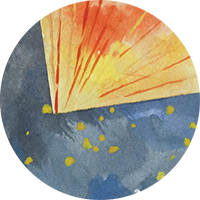 Workshops
Dance Workshops
What would a Bal Folk festival be without its dance and singing workshops? Quite boring we thought and reserved two halls from the second day onward. Workshops will be from 1 to 3 pm. Time to wake up, have breakfast and learn! :-) Last year, lovely people were willing to share their knowledge. We thank Karoline, Teresa, Aljosha, Ilya, Maik, Eva, Selma, Gregor, Maya, Maxi, Renske, Meike, Robin, François, Kira, Florian, Lena and Ralf. Without your effort and your contribution our previous New Year's Eve festival would have not been the same! :-)
We are happy to invite you to run a workshop and to enrich our festival program. If this sounds good to you, please contact us via florian@tanzvolk-leipzig.de before booking your place.
Currently scheduled workshops:
Branle Béarnais (Branle d´Ossau) en chaîne: Introduction for intermediary/ advanced dancers with Florine and Inja (28th)
The Branle Béarnais is an iconic danse of the Gascogne in the south-west of France, more precise from the Béarn and even more precise, from the Ossau Valley in the Pyrenees. It is one of these dances that look pretty simple at first, but then turn out not to be for most dansers – but no worries, you´ll get there! During this workshop we will give you an indroduction to the original form in the chain, as it is most often played during the bal. We are putting the focus on capturing and internalizing the special rhythmical impuls of the region. But of course we will also show you the steps and some possibilities for their variation. Branle en châine is usually danced to music that includes singing, often based on the call-responce principle. So if you are up for it, you will be able to learn your first Branle melodies during this Workshop as well. We will show you furthermore, when and how to turn and face each other as a couple and how to recognize the end of the dance! The goal of the workshop will be to enable you to dance and enjoy the Branle together during the bal.
Rondeau en chaîne – variations and fun in the group with Florine and Inja (28th)
Rondeau en châine, just as its counterpart in couple, is a traditional dance from the landes of the Gascogne in southwestern France. Dancers love it for its energy and dynamic and so it is often played in the balfolk-context as well. We will start the workshop with a short recap of the basic steps and go on to explore how to expand on them. Among other aspects, we will practice to recognize typical rhythmic variations in the music and how to translate them into your dance. Together, we will look for ways to achieve a stronger connection and communication in the chain. Furthermore, we will show you some fun games you can have in your chain, to shake things up a little. Finally, we will show you some options for variation opening up with irregular rondeaus.
Circle Dances with Maja (28th & 29th)
Maja will dance various circles dances with you.
Couple Dancing — Figures and Rythmical Variations with Martijn
Are you a novice dancer, who worries that your dances are boring out your partner? Do you want to be able to dance more self-determining? Are you looking for some self confidence and creativity?
Then you'll like this workshop! We will try work on your basic-figures and rhythmical variations in Scottish, jig and other dances; then get out of your bed for this workshop!
Forró with Maxi and Gregor
Slowly but surely the Brazilian Forró is also filling up the European dance halls. Maxi and Gregor will give an introduction to this easy and sensual couple dance, that has many roots in European folk dancing. Previous knowledge isn't needed, but it helps if you can dance the scottish blind. Even for dancers with first experiences the two can teach a lot.
Congo de Captieux with Ralf
A shakespearean drama for 4 dancers. A choreography from the Gascogne full of passion, temptation, love and jealousy. What else do you need to have some fun?
Yoga with Ricarda
5 days full of dancing without a break is exhausting. But we want you to be able to take some (exhausting) breaks as well! So we inspired Ricarda to do some yoga sessions for you. The academy is armed with 20 yoga mats for you. Everybody starting from beginner level is welcome to come to rest.
Wishes:
The following wishes were mentioned while inscribing to the festival: figures for couple dances, mazurka, carnaval de lantz, tango, fandango, bourrée 3t, irregular/regular waltz, polka, repasseado, maraîchine and polska. Hopefully there will be somebody to fulfill a wish or give some other great workshop.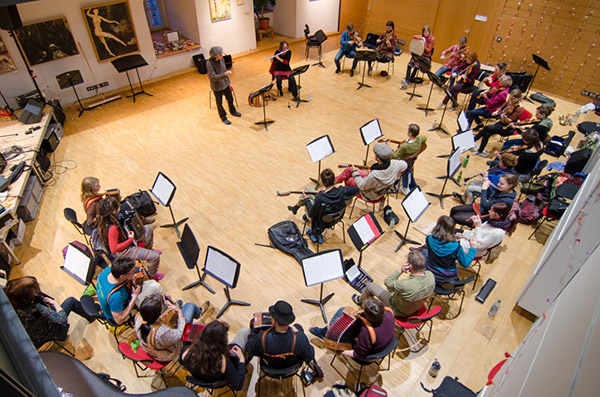 Music and Singing Workshops
From the second day onwards, we offer music workshops from 3:30 pm to 5:30 pm. Because of a limited number of participants, you have to enlist during the presale.
After the workshop all the participants can give a presentation of their new skills to the other guests of the festival.
These are the workshops currently planned:
Ensemble with Marion Ludwig & Steve Ellis (28th & 30th)
Ensemble playing and singing old flemish folksongs (14th-18th c.) with Hilde & Lore (28th & 30th)
A passion for old forgotten songs? Hilde and Lore (BE) share this passion with you. These two musicians from folkband "Rokkende Vrouwen" want to share with you some of the oldest flemish folksongs. Come, sing and play in this singing/ensemble-workshop where we start off sharing some of the forgotten but beautiful music of the Netherlands and Flanders, and end up with simply making beautiful music together.
Workshop on Eastern European village songs with Meike (28th & 30th)
Traditional Eastern European vocal music is passed on from grandma to mother to daughter, without notes but simply by listening and joining the other singers. There is no teachers and no right or wrong. Instead the voice is used very naturally and the sound is very direct. I've learned these songs and singing style from various musicians who traveled through Eastern European villages and for their part learned the songs and style from the old women there. During the workshop we will experiment with white voice singing and search for the strength in our voices with traditional ritual songs and ballads from Eastern Europe. Be prepared to get loud :)
Ensemble with Camille Heim & Léo Danais (29th & 31st)
Choir with Marion Ludwig & Steve Ellis (29th & 31st)
Accordion with Jeniffer El Gammal (29th & 31st)
Please take note: Music workshops on the same day are parallel to each other. You can only join one of them. If you are registered for a workshop, but want to switch to another one or not join at all, just write a short message to florian@tanzvolk-leipzig.de